SSA Host is the webhosting division of Sirkels & Squares Alternative, and a formalization of services including webhosting that have been offered since 1998. Previous incarnations were targeted towards a specific audience and/or service or need. It was decided that it would be better to bring all this together under one roof and offer the same services with a more organized backing.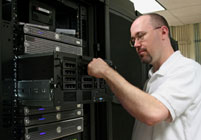 We have been offering web-hosting and consulting services since Dec. 2000, mostly to specialized groups and on an individual basis. SSA Host officially came into existence in early June, 2005 after the realization that we could do what we've become good at doing on a larger scale. After running on a limited scale for a year and a half, to work out the kinks in providing and supporting webhosting services to our clients - SSA Host celebrates 6 years of experience by fully opening our services to the public in December, 2006! We continue to consistently provide reliable services and friendly customer support that our clients have been able to depend on.
We strive to do three things extremely well. 1: Provide fast, reliable service you can depend on. 2: Keep our prices extremely affordable. 3: Offer fast, friendly, and knowledgable support. In order to reach these goals, we continuously maintain and monitor our services. We don't oversell our resources, and we don't needlessly indulge ourseves at the customers expense. We love what we do, and we want you to be proud of the services we offer. Our enthusiasm for our work shows in our customer support - both in attitude and knowledge. We also try to make our service easy to use and understand by providing documentation, tutorials, and answers to common questions.
If you can't find the answer to your problem or question online, we have 24x7 support available via our email/ticket system. Most responses are under 30 minutes! More complex issues requiring a server administrator or approval by a member of management are typically handled within a few hours as there's always a manager or server admin on-call and required to respond to escalations from our support center for urgent issues.


Read More:

About our Network